English Publications
Paint Industry in Japan
Trends and statistical data of Japanese paint industry, and annual JPMA activity report.
Price
400 Japanese Yen
Pages
14 pages, all pages in full-color.
Date of Issue
May 2021
Contents

Message from JPMA's Chair
Paint Industry Associations in Japan
The Role of Paint
Special Functions
The Role of Color
Paint Production and Shipments
Paint Demand Breakdown
JPMA Major Activities in FY2020
Initiatives on Health, Safety and Environmental Issues
Occupational Safety Manual Handbook - For Paints -
This handbook is the English tranlation of original Japanese version issued by JPMA.
It describes basic safety procedures for paint manufacturers.
Handy size to keep at the workplace. Review the check list everyday!
Note: this handbook is based on Japanese regulations and standards.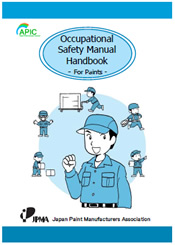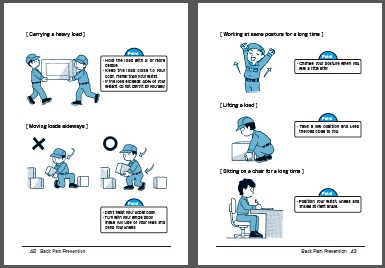 Price
400 Japanese Yen.
Size
128mm x 182mm, 58 pages
Date of Issue
March 2017
Contents

1. Safety Principles
2. Safety Measures
3. Anti-static measures
4. Handling Organic Solvents
5. GHS
6. Back Pain Prevention
7. First Aid
8. Industrial Accidents in Paint Industry
9. Industrial Safety Checklist
How to order
E-mail ( ) or fax (+81-3-3443-3599) JPMA for conditions of orders.

Copyright(c) 2019 Japan Paint Manufacturers Association. All Rights Reserved.