JPMA publish various guidebooks / reports on issues concerning paint industry and colors.
Most publications are available only in Japanese.
Here, we'll introduce English publication and JPMA Standard Paint Colors.
Paint Industry In Japan 2018
400 JPYen per copy / 14 Pages
Trends and statistical data of Japanese paint industry, introduction of JPMA along with members' list.
CONTENTS

Greeting
Paint Industry in Japan
Landscape and Color Planning
Paint Functions and Effects
Paint Production and Shipments in 2017
Regional and Market Breakdowns for Paint Demand
Paint Exports and Imports
JPMA Major Activities in 2017
Initiatives on Health, Safety, and Environmental Issues
Occupational Safety Manual Handbook - For Paints -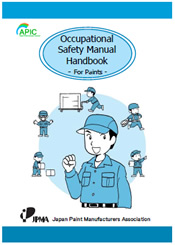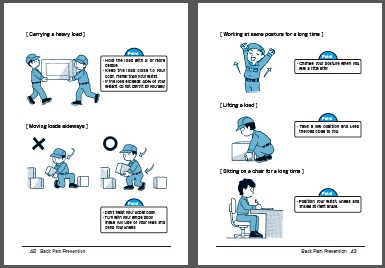 CONTENTS

1. Safety Principles
2. Safety Measures
3. Anti-static measures
4. Handling Organic Solvents
5. GHS
6. Back Pain Prevention
7. First Aid
8. Industrial Accidents in Paint Industry
9. Industrial Safety Checklist

This handbook is the English tranlation of original Japanese version issued by JPMA.
It describes Basic safety procedures for paint manufacturers.
Handy size to keep at the workplace. Review the check list everyday!

Size: 128mm x 182mm, 58 pages

Price: JPY400-

Issued in March 2017
Standard Paint Colors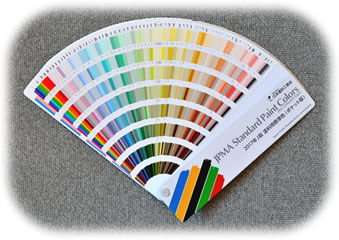 Click here for more info on JPMA Standard Paint Colors 2017J-edition
Publication available in Japanese
There are more than 30 publications available in Japanese regarding technical issues, environmental issues, statistics, colors, etc.
Click here to see Japanese publication list (page available in Japanese only).